On Wednesday 7 March 2012, Jack and family (Dad, Mum Jack, Toby & Noah) were all invited along to meet Alex Salmond (Scottish politician and current First Minister of Scotland). Jack had drawn a picture for him and Alex wanted to meet him.
We all had a lovely time, plenty of chocolate biscuits, Tunnocks Caramel Logs, cakes, orange juice, fruit and tea was consumed.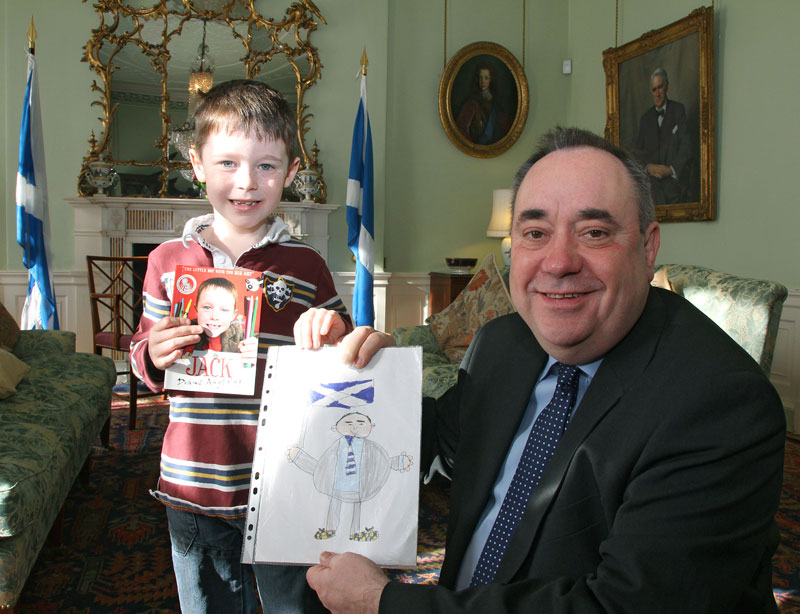 Many topics were discussed such as The Muppets, some Scotland pens for Jack's classmates, chocolate biscuits, Robert Burns, Jack requesting an Army plane to take us home, Jack taking over as First Minister and of course, Jack's fundraising.
First Minister Alex Salmond said:
Jack is an impressive young artist and a very impressive young man. I was lucky enough to meet the whole family and you can easily see where he gets his thoughtfulness from.

He is obviously very talented but, more importantly, he is a very generous and kind lad. To spend so much time raising money for the Sick Kids is an achievement not many of us manage–especially not at his age.

I was very touched by Jack's drawing of me, and I'm pleased to say his autographed copy of Jack Draws Anything now has pride of place on the Bute House bookshelf!
Here is a wee peek at what Jack drew for Alex Salmond: