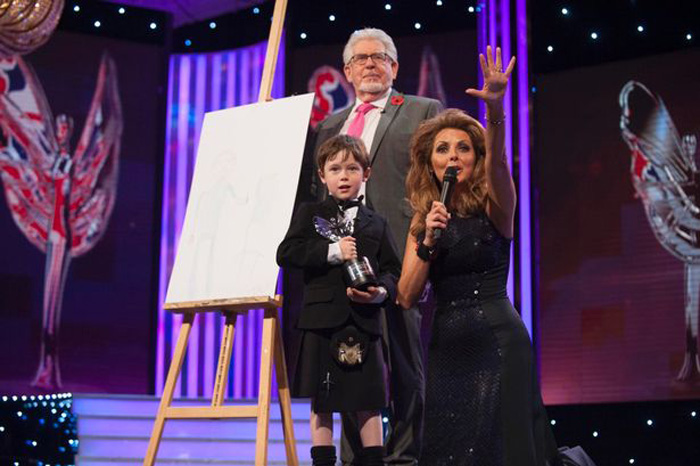 As you may have seen on or read recently, Jack's artwork of Rolf Harris was auctioned at the Pride of Britain Awards on Monday 29 October 2012. It had been reported by both ourselves, the media and on the televised show itself that this artwork was sold for £15,000.
Unfortunately during the auction itself, a mistake was made. We have spoken to the Daily Mirror who confirmed:
"Unfortunately with all of the noise/commotion in the room Carol (Vorderman) made a mistake when facilitating the auction. We had three members of staff overseeing this area of the room all of which confirmed that the bid was for £6,000."
Therefore the amount it sold for has now been corrected and set to £6,000.
Just to be clear, Jack, his family, and the Sick Kids Friends Foundation are in no way angry or apportioning any blame to anyone involved, especially not Carol Vorderman or the two bidders who were all lovely. In these situations, mistakes can happen and the important thing is that this has been explained and resolved.
We are all very grateful to everyone at Pride of Britain / ITV / Daily Mirror for their help and support over the last few months, it was an amazing night and Jack had a great time.
We also want to say thank you for the amazing generosity shown by LIDL (for the £10,000 donation), the programme makers for attempting an auction of Jack's drawing to raise further funds and the people in the auction who made bids for Jack's artwork.
Looking forward, Jack has come back from the Pride of Britain Awards with a massive £16,000 added to his fundraising total, this is £16,000 MORE than we ever imagined, so thank you again for that.
Additionally, Jack's fundraising JustGiving page has received almost £2,000 worth of donations since the show went out on Tuesday. Thank you to everyone who donated.
This money will go a long way to improving the care of children at the The Royal Hospital for Sick Children in Edinburgh.
Thank you.