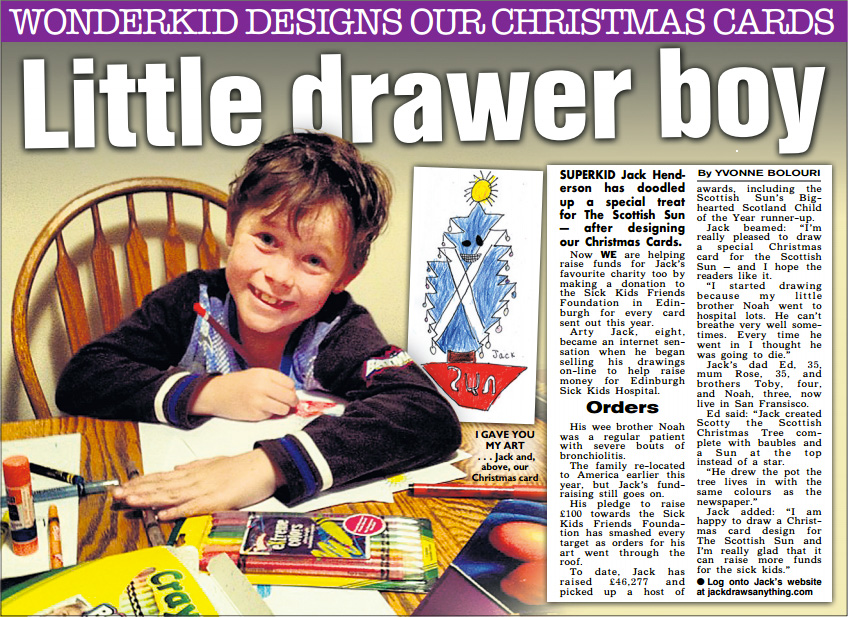 Article and text taken from Scottish Sun (dated 13 December 2012) and reproduced with permission.
SUPERKID Jack Henderson has doodled up a special treat for The Scottish Sun — after designing our Christmas Cards.
Now WE are helping raise funds for Jack's favourite charity too by making a donation to the Sick Kids Friends Foundation in Edinburgh for every card sent out this year.
Arty Jack, eight, became an Internet sensation when he began selling his drawings on-line to help raise money for Edinburgh Sick Kids Hospital.
Orders
His wee brother Noah was a regular patient with severe bouts of bronchiolitis.
The family re-located to America earlier this year, but Jack's fundraising still goes on.
His pledge to raise £100 towards the Sick Kids Friends Foundation has smashed every target as orders for his art went through the roof.
To date, Jack has raised £46,277 and picked up a host of awards, including the Scottish Sun's Bighearted Scotland Child of the Year runner-up Winner.
Jack beamed: I'm really pleased to draw a special Christmas card for the Scottish Sun — and I hope the readers like it. I started drawing because my little brother Noah went to hospital lots. He can't breathe very well sometimes. Every time he went in I thought he was going to die.
Jack's dad Ed, 35, mum Rose, 35, and brothers Toby, four, and Noah, three, now live in San Fransisco.
Ed said: Jack created Scotty the Scottish Christmas Tree complete with baubles and a Sun at the top instead of a star. He drew the pot the tree lives in with the same colours as the newspaper.
Jack added: I am happy to draw a Christmas card design for The Scottish Sun and I'm really glad that it can raise more funds for the sick kids.