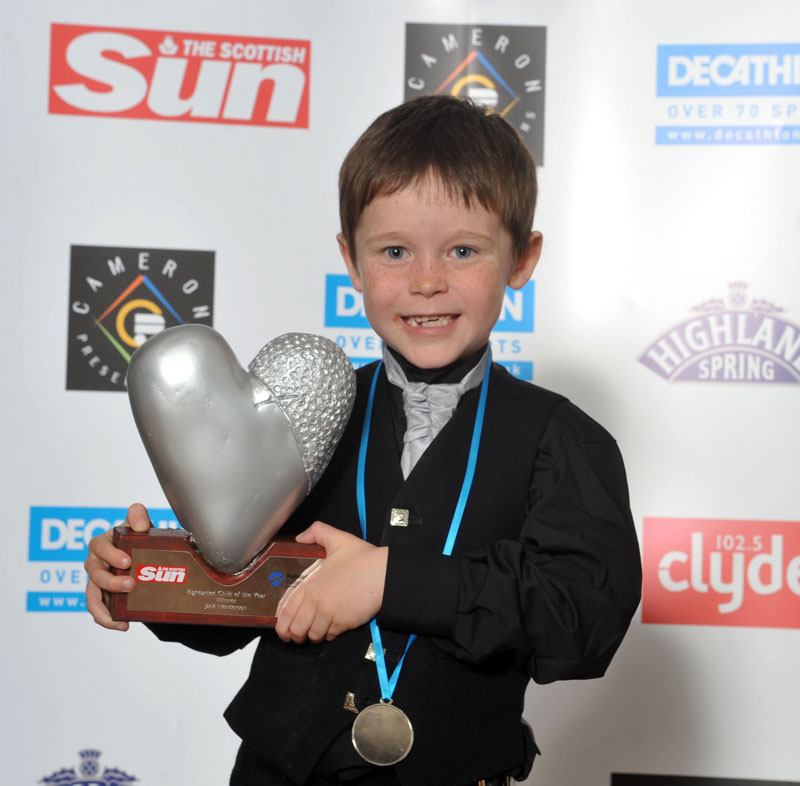 Six–year–old Jack Henderson of Prestonpans, East Lothian, won Child of the Year at the Bighearted Scotland Awards 2011.
Jack has raised over £30,000 since launching his website jackdrawsanything.com in March for the Sick Kids Friends Foundation. A book of his drawing and charting his fundraising story also recently went on the shelves of major retailers such as Waterstones and WH Smith.
Jack said:
"I loved winning the Bighearted Scotland award, wearing a kilt and raising the money for the Sick Kids. It was a good night and I met Rhionna McCulloch and she was nice. Stephen Jardine bought me a coca cola."
Jack mingled with hosts Kaye Adams and Stephen Jardine at the event, as well as Deputy First Minister Nicola Sturgeon and was joined in the winners' circle by Entertainer of the Year Fred MacAulay and Business Person of the Year Sir Brian Souter.
Jack's Dad Ed said:
"The last 8 months have been absolutely amazing. Every week I think Jack's wee journey has reached its end then something else happens. Who would have imagined all those months ago we would be here tonight in such fine company. Jack deserves every nice word said about him and this Bighearted Award sums up his attitude and dedication to a tee. Thank you to everyone who voted for him. He had a great night and was still dancing at 1am."
Maureen Harrison, Chief Executive of Edinburgh Children's Hospital Charity (previously The Sick Kids Friends Foundation) said:
"We are delighted that Jack's fantastic fundraising has been recognised at the Bighearted Scotland Awards. He is such an amazing little boy who has captured hearts all over the world and raised over £30,000 for the Sick Kids Friends Foundation, which is a tremendous achievement. Most of all he has shown us all what a good idea combined with determination and imagination can do to help make Sick Kids better!"