International Internet sensation Jack Draws Anything has smashed his £20,000 fundraising target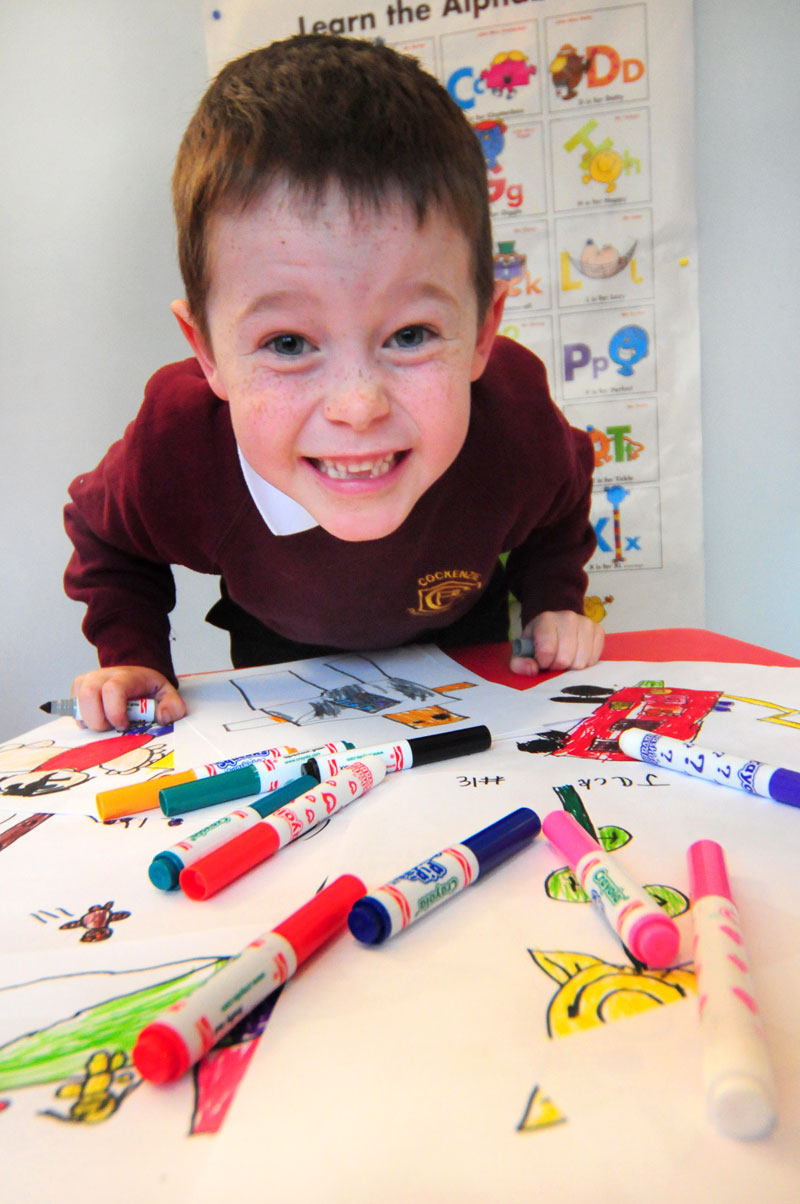 Six–year–old Jack Henderson, of Prestonpans, East Lothian, has raised the cash for the Sick Kids Friends Foundation by accepting picture requests through his website.
Within two weeks of launching the campaign, Jack had to stop taking picture requests after receiving over 500 orders for images as bizarre as a pink alien in a spaceship and lava spewing volcanoes, a pig on rollerskates to a big fairy wearing big wings sitting on a toad stool.
The site, jackdrawsanything.com, has had almost 280,000 hits from places as far flung as the Philippines, Venezuela and Zambia.
And, after hitting the £20,000 (almost £24,000 with Gift Aid included), Jack is going to spend the summer having fun, playing & finishing his drawing requests and the family are delighted with the total raised so far.
Jack's Dad Ed said:
We cannot believe we have managed to raise this unbelievable sum of money for the Sick Kids Friends Foundation. Jack is just one wee boy who had a fun fundraising idea – we could never have imagined it would take off to this extent.
Jack wanted to raise £100 to support the hospital brother Noah, aged two, regularly attends with chest problems. Jack, along with Dad Ed, Mum Rose, and middle brother Toby, three, have enjoyed a whirlwind couple of months with their fundraising efforts.
Jack has signed a book deal with international publishers Hodders Children's Books, appeared on national television, been nominated for a Scottish charity award, met his heroes The Wiggles and appeared in Brazilian and Chinese news.
Maureen Harrison, Chief Executive of Edinburgh Children's Hospital Charity (previously The Sick Kids Friends Foundation), said:
What Jack has achieved is quite amazing and so kind. His way of saying thank you to the hospital for Noah's care with his lovely drawings has not only exceeded all fundraising expectations, but has also brought worldwide publicity to the help the Sick Kids Friends Foundation supporters' donations bring to children and families.

Huge thanks to everyone who has donated to this project and of course to Jack, who has touched the hearts of so many people.
Jack plans to finish his drawings by September and the book is due to be published in October.
Jack said:
I love drawing and am happy that my pictures have raised lots of money for the hospital.
If you would like to view Jack's drawings, or make a donation, go to jackdrawsanything.com.
For further information, please contact Rose & Ed Henderson (Jack's Mum & Dad), me@jackdrawsanything.com