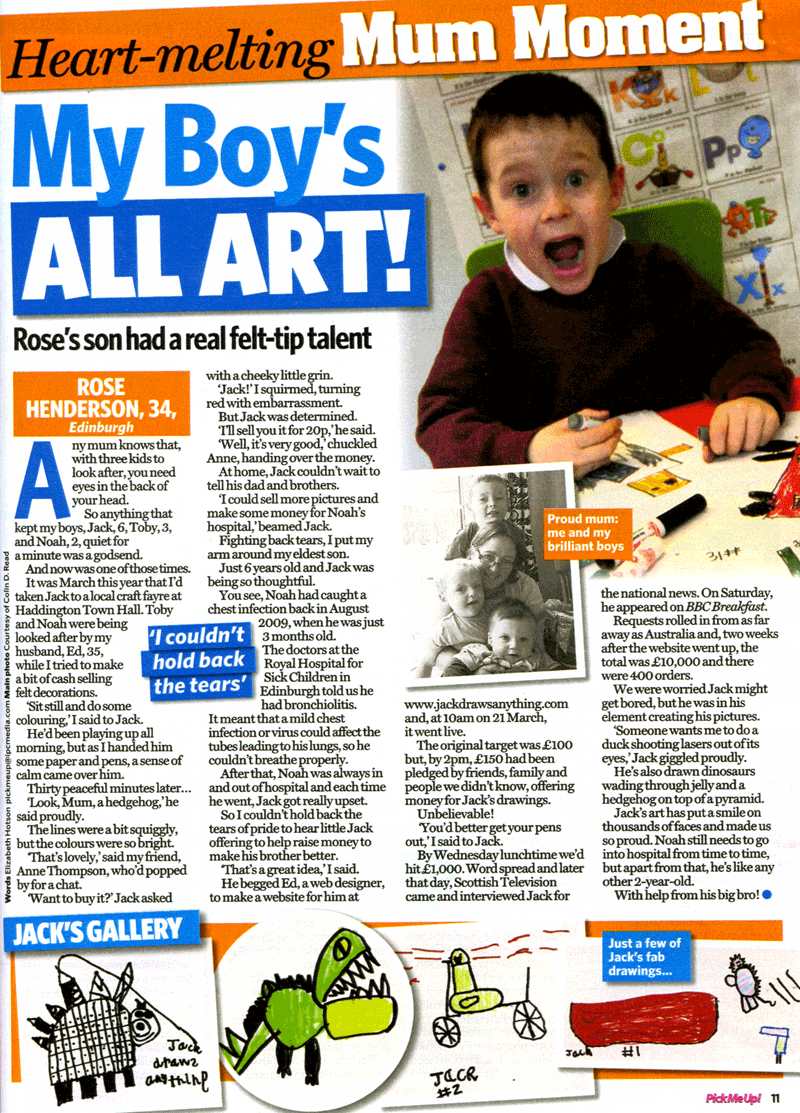 Several weeks ago Rose was approached by Pick Me Up magazine to do a story from the Mum's point of view. She agreed and based on her interview, the following story was written. We'll let everyone draw their own conclusions about the story but suffice to say we think its lovely.
Story was published this week and I have managed to get a scan of it for you all to enjoy.
They offered a fee for Rose's time and story which we have asked to be passed on to the Sick Kids Friends Foundation. Once this arrives we will update the total. Hurrah!
Enjoy and don't cry too much.
Heart-melting Mum Moment

My Boy's All Art!

Rose's son had a real felt-tip talent

Any mum knows that, with three kids to look after, you need eyes in the back of your head.

So anything that kept my boys Jack, 6, Toby, 3 and Noah, 2 quiet for a minute was a godsend.

And now was one of those times.

It was March this year that I'd taken Jack to a local craft fair at Haddington Town Hall. Toby and Noah were being looked after by my husband, Ed, 35, while I tried to make a bit of cash selling felt decorations.

"Sit still and do some colouring" I said to Jack.

He'd been playing up all morning, but as I handed him some paper and pens, a sense of calm came over him.

Thirty peaceful minutes later…

"Look, Mum, a hedgehog" he said proudly.

The lines were a bit squiggly but the colours were so bright.

"That's lovely" said my friend, Anne, who'd popped by for a chat.

"Want to buy it?" Jack asked with a cheeky little grin.

"Jack!" I squirmed, turning red with embarrassment.

But Jack was determined.

"I'll sell you it for 20p" he said.

"Well, it's very good" Chuckled Anne, handing over the money.

At home, Jack couldn't wait to tell his Dad and brothers.

"I could sell more pictures and make some money for Noah's hospital" beamed Jack.

Fighting back tears, I put my arm around my eldest son.

Just 6 years old and Jack was being so thoughtful.

You see, Noah had caught a chest infection back in August 2009 when he was just 3 months old.

The doctors at the The Royal Hospital for Sick Children in Edinburgh told us he had bronchiolitis. It meant that a mild chest infection or virus could affect the tubes leading to his lungs, so he couldn't breathe properly.

After that, Noah was always in and out of hospital and each time he went, Jack got really upset.

So I couldn't hold back the tears of pride to hear little Jack offering to help raise money to make his brother better.

"That's a great idea" I said.

He begged Ed, a web designer, to make a website for him at jackdrawsanything.com and at 10am on 21 March, it went live.

The original target was £100 but by 2pm £150 had been pledged by friends and family and people we didn't kow, offering us money for Jack's drawings.

Unbelieveable!

"You'd better get your pens out" I said to Jack.

By Wednesday lunchtime we'd hit £1,000 Word spread and later that day, Scottish Television came and interviewed Jack for the national news. On Saturday he appeared on BBC Breakfast.

Requests rolled in from as far away as Australia and, two weeks after the website went up, the total was £10,000 and there were 400 orders.

We were worried Jack might get bored, but he was in his element creating his pictures.

"Someone wants me to do a duck shooting lasers out of it's eyes" Jack giggled proudly.

He's also drawn dinosaurs wading through jelly and a hedgehog on top of a pyramid.

Jack's art has put a smile on thousands of faces and made us so proud. Noah still needs to go to hospitalfrom time to time, but apart from that, he's like any other 2-year-old.

With help from his big-bro.